Medical Terminology Quizzes
Do you want to use repetition to help learn medical terminology? If your answer is yes, then try our quizzes.
They are fun and focused, plus give instant feedback on your answer.
Repetition is an important element of learning and it is especially useful for learning the language of medicine, so take our quizzes as often as you want. Only you see your results.
---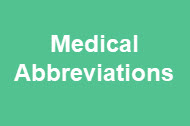 Medical Abbreviations Quiz
The healthcare field is rich with medical abbreviations. While useful for saving time, errors can occur as a result of misinterpretation.
---
Play These Popular Games